Your sports hotel in Düren
The 3-Star Superior Hotel Restaurant Rotes Einhorn and the four-star Hotel Rotes Einhorn Düren are a paradise for fitness and wellness fans, for cyclists, hikers, horse lovers and golfers!
Discover the various possibilities for sports and relaxation with us at the "Rotes Einhorn", your Sports Hotel in Düren. We will be happy to advise you personally on the most beautiful hikes, bike tours and excursions on site.
Fitness and Wellness at Rotes Einhorn
4 Stars Sports Hotel Rotes Einhorn Düren
Nothing but the best for our guests: Our itness room is equipped with top-modern fitness devices of the company "Life-Fitness".
Exercise on 4 cardio machines (treadmill, cross trainer, summit trainer, ergometer), on a multifunctional weight tower, barbell tower, the dumbbell station or the back and abdominal trainer. The fitness room can be used for free by guests of our two sports hotels in Düren.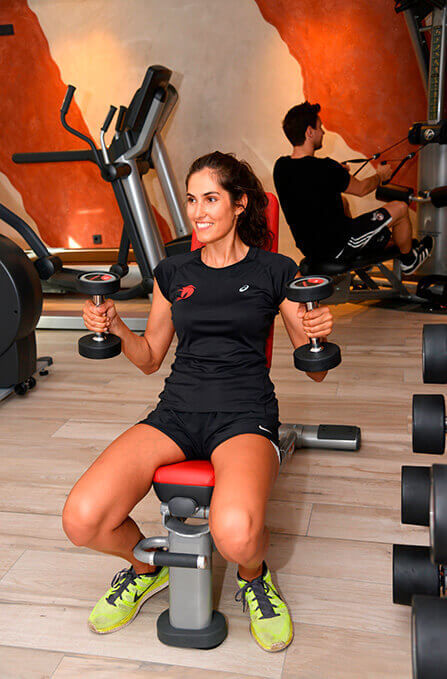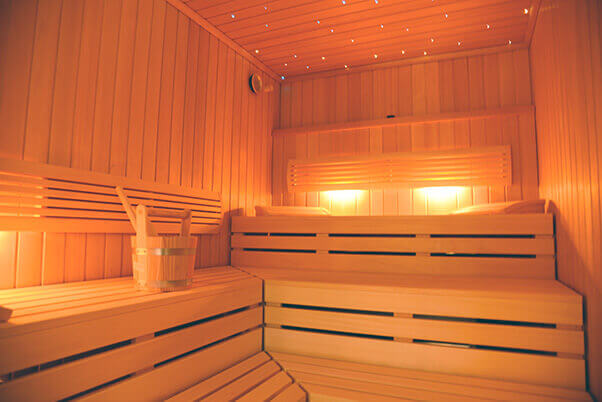 Relaxation in the Rotes Einhorn
Leave stress and strain behind: Our modern wellness area bietet Ihnen dafür eine wahre Oase der Ruhe und Entspannung. Genießen Sie wohltuende Zeit in unserer Biosauna und in der finnischen Sauna – beide von der renommierten Marke "Klafs".
A special highlight is the starry sky, which inspires you to dream in both saunas. Between the sessions you will find plenty of space for your relaxation in our generously designed relaxation room. The wellness area can be used for free by guests of our two sports hotels in Düren.
Sports Hotel Rotes Einhorn Düren
Mountain bike/e-bike rental
Whether with your own bike or with our first-class rental bikes of the brand "Altero" Cyclists kommen im und rund um das Sporthotel Rotes Einhorn Düren voll auf ihre Kosten!
The idyllic Eifel landscape is a wonderful setting for relaxed tours, e.g. by e-bike. At the same time, there are plenty of exciting routes through the woods, which are a dream for mountain bike fans!
E-Bikes: € 40 per day
Mountain bikes: € 15 per day
Examples of fantastic tours are the Wasserburgen-Route, the Kaiserroute, the Rurufer cycle path and the signposted mountain bike route to the Hürtgenwald.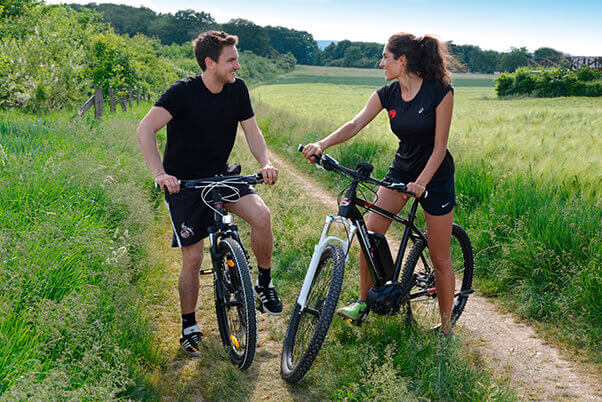 Bathing Lake, Golf, Quad Bike, or Hiking with Alpacas
Sports Hotel Rotes Einhorn Düren provides many options
Treat yourself to relaxing days in the 3-star superior hotel restaurant Rotes Einhorn or in the 4-star hotel Rotes Einhorn. Our sports hotels in Düren are, due to their proximity to the beautiful golf course of the Golfclub Düren e.V., perfect domiciles for golfers who want to relax and indulge in their hobby. Playing golf in the Eifel? Yes, you can!
Adrenaline junkies have the opportunity to really get going with our friends fromNordeifelQuad. Discover the wonderful North Eifel on a quad tour - adrenalin kick included!
During the summer months the Düren Bathing Lake invites you to relax or get active. The water ski and wakeboard park DOCK5 offers extraordinary fun and enjoyment.
Animal and hiking lovers take note: You can decelerate your hectic everyday life in harmony with nature and animals on an alpaca hike through the beautiful Eifel with Alpacas on a walking tour. Just contact us if you wish to book an alpaca walk and we will be happy to arrange it for you.